Mervyn Child (b. 1955) lives and works in T'sakis (Fort Rupert, BC). He learned to carve from his family of well-known artists, notably Calvin Hunt, George Hunt Jr., and Tom Hunt. Mervyn was initiated as a Nunsistalis in the Hamatsa Society at the memorial potlatch for his grandfather the late chief Thomas Hunt. Mervyn is  Kwaguł, Tlingit, Nuu Chah Nulth, and British.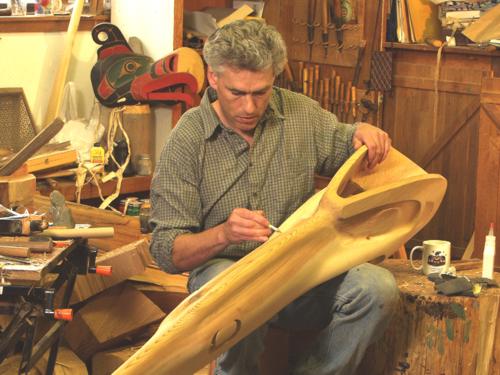 Artist Statement
"I was lucky enough to be born into a family rich in ceremonial culture. From an early age, I was exposed to the song and dance of my mother's family. I was invited to carve in my uncle George Hunt's shop, a place that still inspires me today. More recently, I began an apprenticeship at the Copper Maker gallery, which allowed me to participate in many family successes. I continue to work at the Copper Maker today."
Thanks to Quintana Gallery, Alcheringa Gallery, the Path Gallery, and Coghlan Art Studio and Gallery for the photographs of Mervyn's work that appear here.